Lumen – Crewe's Night Of Lights Marketing Case Study
Original brief:
Before tendering for the job, this was the original brief we were given. The main jobs for us were to find a name, create a brand, run the marketing, PR, advertising and to create all of the marketing collateral.
'In November the council will launch a brand-new event, this will replace the well-established lights switch on. The council have decided to invest in something new that potentially can grow and become a USP for the town.
For the new event, the town centre will be transformed into a magical illuminated space for visitors to wander through, with beautiful lit installations and costumed roaming performers animating the site. For one night only, Memorial Square will be lit by the glow of magical woodland creatures, giant flowers, luminous stars, ice drops and a whole host of other shining surprises through an array of light installations.
In the meantime, Lyceum Square will host a winter market, with a funfair and a Santa's grotto. At 6pm a lantern procession will arrive in Memorial Square where the Mayor of Crewe will welcome it, turning on the Christmas lights which will also start, for the first time ever the projection mapping show that will illuminate the Municipal building throughout the Christmas period.
We are looking for a company that could look after the marketing campaign for the event. (artwork, PR, physical advertising products, social media and storytelling.
Sponsorship:
As for all new events, the budget that can be set aside for marketing is always small and for Lumen, this was no different. In order to make the marketing a success, we felt strongly that sponsorship was needed.
As we have a great relationship with local businesses in our community, we created a sponsorship package and reached out to them to see what we could achieve. After a week we ended up with 4 sponsors which raised extra money for marketing the event. Not only were sponsors vital in raising money for marketing they also play a key role in raising the events profile through organic word of mouth and social media.
Giving value to the sponsors was also imperative as we want to form a strong bond allowing them to continue to sponsor Lumen for years to come. We did this by structuring the sponsorship packages to give as much value as possible to them, whilst ensuring maximum ROI for Lumen. During the creation of the marketing collateral, we also gave sponsors some free added extras in order to further strengthen the relationship and give them yet more value. The extra's that we created were a voucher for each sponsor which was added onto the back of the A5 event flyers, these were then distributed to 5000 homes across Crewe. Sponsors were also given a free space to be present at the event allowing them to have a physical presence in front of more than 4000 people on the night.
Murad Hoque (Bombay Restuarant Crewe): 'I bought a voucher slot on the back of the A5 Flyer, within a week I had customers using them on their order, great value for money!'
The four sponsors were:
Crewe Engineering and Design UTC
ABC Childcare Solutions
Air Products
Prestige Motors
Brand creation:
The Lumen brand was created with the focus being on bright colours and making it as visually exciting as possible to engage with a wide demographic, while being modern in its style. The shapes and colours were chosen as a modern and abstract take on a light installation to link back to the name Lumen. The range of colours were chosen to depict the wide variety that would be shown on the building projection and to also give connotations of happiness and excitement. The main background colour chosen for all Lumen artwork was black. Black was chosen to create a major contrast between itself and the bright colours used in the artwork, thus making everything stand out more on the various pieces of marketing collateral that were produced.
Marketing materials:
When creating a plan to successfully market Lumen, we assessed the target audience, the various forms of media that could be used and how to best implement them. We decided on a mix between physical media; PVC Banners, Roadside Boards, Posters, Newspaper Articles and A5 Flyers, But also social media; Facebook, Radio, Twitter and Website Articles. We decided that a mix between both medias was imperative in successfully marketing Lumen, this would allow us to create the maximum reach across the various demographics that we were targeting. It would also allow for multiple points of contact on the consumer at different times of their day (roadside boards whilst driving, social media in their free time ect..) thus cementing the event into their minds and creating brand recognition.
All the marketing materials that were produced, both online and offline were produced in house by our team of experts, from design, to production and installation or fitting, this allowed us to effectively manage; deadlines, quality, brand consistency and timings. These are all very important ingredients needed to run a successful marketing campaign.
Items designed and produced:
5000 A5 Flyers: Containing event information and consumer vouchers. All distributed to CW1 postcode houses.
50 A2 Posters: Containing event information distributed to key shops/ premises across Crewe town.
15 1 x 2-meter PVC Banners: Advertising the event, fitted outside schools and key locations deciphered from traffic flow statistics to effectively target our main demographic of parents and children.
10 Roadside Boards: Advertising the event, fitted around key locations, deciphered from traffic flow statistics across the town to allow for maximum exposure.
Facebook page creation: Used to advertise the event and engage consumers.
Twitter page creation: Used to advertise the event and engage consumers.
Facebook event creation: Used to engage consumers and gauge the number of attendees.
50 social media posts: designed and posted in order to spread key messages about the event and to engage the consumers. These were posted across Twitter and Facebook.
Facebook advertisements: Used to target certain demographics via paid adverts in order to gain a wider reach and market the event further. Tactical demographic targeting was implemented to get key messages to certain demographics.
3 Newspaper Articles: Written and submitted to The Chronicle, South Cheshire Chamber, Gossip Magazine Whitchurch, Gossip Magazine Market Drayton, Crewe Link Magazine and various other online and offline publications.
Spray Paint Logos: Fitted across Crewe Town to create brand awareness, engage consumers through a Facebook competition and to further aid in marketing the event.
Projector hoarding – This was produced to cover the projector hoarding structure throughout the event, featuring Lumen branding and sponsor logos.
Statistical analysis:
Below are some statistics taken from social media platforms. It is not possible to produce tangible statics from offline marketing materials but both online and offline methods are essential in creating an effective campaign. However, the attendance was 10,000 compared to last year's 4000 which clearly demonstrates a huge success.
Upon visiting other light switch on pages on Facebook here are the attendance statistics: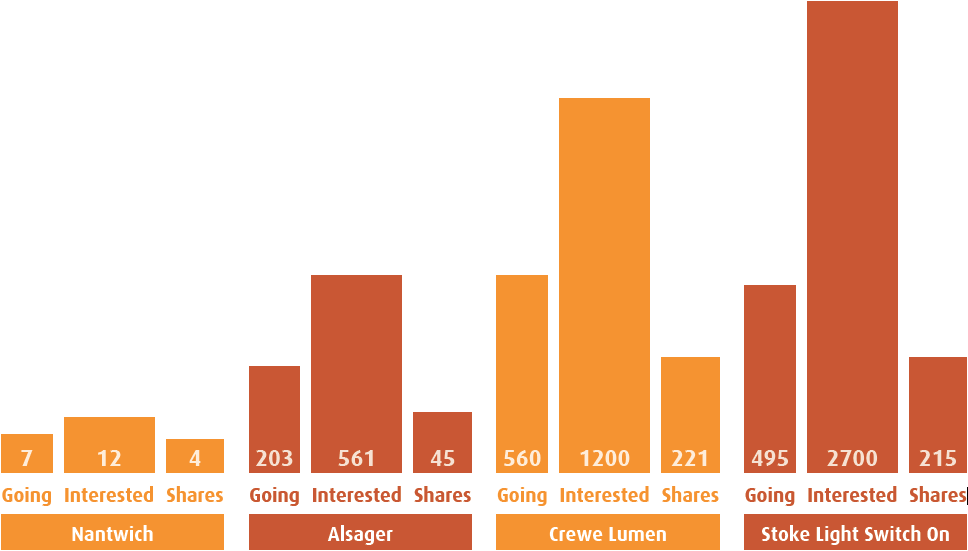 These results clearly show the power of strong marketing, Lumen outperformed every place and statistic accept the number of people interested in Stoke, however, this is due to the population of Stoke being much larger than in Crewe.
Key Statistics:

Testimonial:
Steve Mcquade (Town Clerk): 'Lumen represents a significant investment for Crewe and its people, it represented a leap in the dark quite literally. It was vital therefore that the design, marketing and communications with customers was spot on. Feedback from the event has been staggeringly positive and Design Office need to take pride in their contribution to making this happen. I am tremendously grateful for the help with design and operational support that maximized the chances of everyone seeing and participating in such a joyous evening'
Lynn Willacy Community Ambassador at Air Products said "Air Products cares about the communities where we operate and was proud to be a sponsor of the Lumen project. The plans were very ambitious and executed brilliantly, I am sure that people watching the show felt proud of their town and hopefully the event will become an annual celebration."
Conclusion:
In conclusion Lumen had an attendance of 10,000 people compared to last year's 4000, this is an increase of 6000 people which clearly defines the success of the event as a whole and in the marketing and advertising implemented to promote this the new event. Having faced a limited budget to market and advertise this new event, in our opinion the Marketing was a huge success, the above statistics and testimonials speak for themselves. We are confident we can achieve comparable results in future marketing and advertising opportunities, as we have clearly demonstrated a competence to exceed expectation and deliver on the aims set out at the start of the campaign.