Design Office – Leaders in Charity Marketing
"As you may or may not be aware, we are trying to raise funds for the acute medical unit (ward 3) which is part of the emergency care division. We deal with many types of medical problems, including patients with dementia. This can prove very challenging as these patients can be extremely confused and often become aggressive towards staff and other patients. Sadly we do not have the staffing to be able to provide 1-1 nursing for patients who are so acutely confused; however studies have shown that 'colour coding' can help assist patients with dementia to become more familiar with their surroundings and therefore provide a more comfortable environment.
The money we hope to raise at our charity event will provide colour coded furniture, enabling patients to recognise their bed space and Bay Area – doors and chairs are just some of the things we hope to purchase.
We have approached many companies whom we hope will support our charity event in whichever way they can – providing raffle prizes, or helping with the planning of the event. We would like to thank design office for not only designing and providing us with fantastic posters for no cost, but moreover the professional and timely manner in which they were able to do it. It has enabled us to really drum up interest for the event in November." – Joanne Beales
Here at Design Office we are proud to support local charities, through direct fundraising events, sponsorship and by providing artwork and printing solutions for charity functions. We are a small, but thriving business, and strongly believe in being at the heart of the community, giving back where we can, so this week we are celebrating a range of projects that we have recently completed or are working on for various charity functions in the local area.
Back to the 80s
The testimonial above came from a client we worked with a few weeks ago, Jo Beales, on behalf of Leighton Hospital. As you can see, the hospital are hosting a 'Bring Back the 80s' night on November 11th to raise money for their acute medical unit, in the hope to purchase furniture to make the space more comfortable and appealing for patients with dementia. In a bid to help out, a member of the marketing team met with Jo and agreed to design and print some posters to help advertise the event, completely free of charge!
In just a couple of days the posters were designed by our talented Design team and printed on our Ricoh Digital Printer, ready for Jo to distribute around the hospital.
Weston Light Display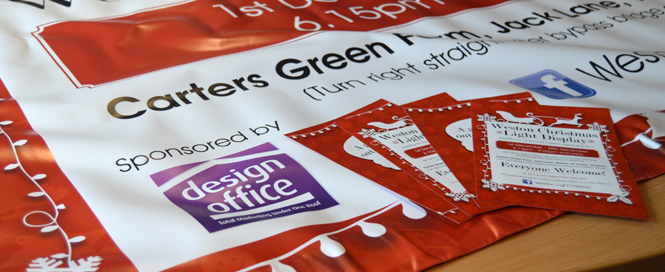 As you may remember, the team at Design Office partnered up with Graham Witter, a young individual – who just yesterday won the Community Individual Award at the Pride of Crewe Awards – that organises and executes an impressive light display on his family-run farm in order to raise money for The Donna Louise Trust. Last year Design Office were able to create all designs free of charge, as well as offering a competitive price on the print of the products, and Graham is back in the office this year to work with us again.
The Weston Light Display offers a great deal to the community, much more than just festive lights! While the farm house and gardens are completely covered in multi-coloured, Christmas themed lights, thee is also the opportunity for children to have their photograph taken with Santa (in a sleigh!) listen to live, festive music and purchase various refreshments.
Every year Graham hopes that the Weston Light Display will be bigger and better than the last and to help out this year the team at Design Office will be working together to produce a range of marketing materials including Flyers, Posters, Banners, Postcards, Blank Christmas Lists, Social Media Graphics and even Stickers!
What's Happening on North Street!?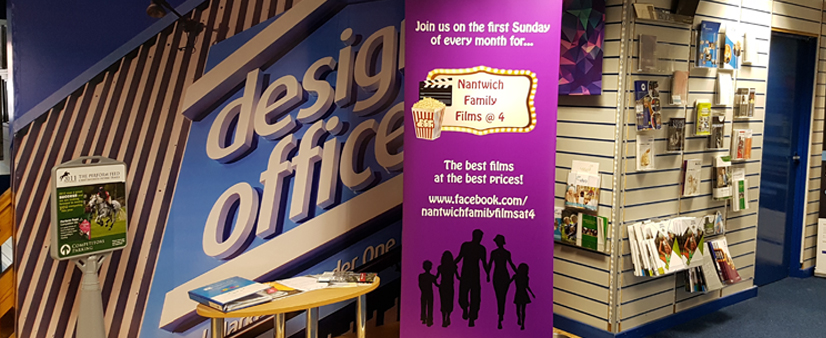 What's Happening on North Street is a community centre that opened late last year in place of the North Street Methodist Church that was knocked down after being declared structurally unsound. In the lead up to the launch of the new community centre, the Manager, Geoff Etherton, got in touch with Design Office and asked the design team to work on some vibrant signs for outside the building. These were successfully designed and printed and Geoff was more than happy with them, which led to Design Office creating more print products for the centre, the most recent being Flyers and Roller Banners to promote their new 'Films @ 4' event that will take place on the first Sunday of every month.
As usual, Design Office love to help out where they can, which is why What's Happening on North Street are offered very competitive prices for their print products in order to aid the success of the community centre that offers a great deal of pleasure and entertainment to local members of the community.
Design Office will always help a charity or community organisation where we can, so if you're interested in partnering with Design Office and discussing any form of sponsorship that we can provide, then why not organise a no obligation consultation with a member of our marketing team? Call 01270 252106 or send and email to marketing@designoffice.co.uk today!