Our Favourite Tributes To The NHS & Key Workers
During this terrible time for both businesses and the human race it's amazing to see everybody coming together to show support and gratitude to the NHS for all of their continued hard work on the front lines fighting COVID19.  
Clap for our Carers is just one example of the UK Public pulling together to show support. This moving tribute to the NHS and Key Workers is now taking place on a weekly basis, which is extremely heart-warming to see and take part in!  
Find out about more about Clap for our Carers here: https://www.bbc.co.uk/news/uk-52140383 
Another way people have been showing their support is through Social Media Posts, Large Building Tributes and also Homemade Banners displayed in windows and outside people's houses!  
We have created a list of some of our favourites to bring a bit of cheer to the current situation, be sure to share your own with us and let us know your favourites!  
Super Cute Dachshund:
Anyone who knows us will know how much we love dogs, so there is no surprise that a cute Dog Tribute has made our list! These super cute Canine Bandanas were created by Buddy's Bow Ties and Bandanas, with a portion of the order value going towards helping the NHS!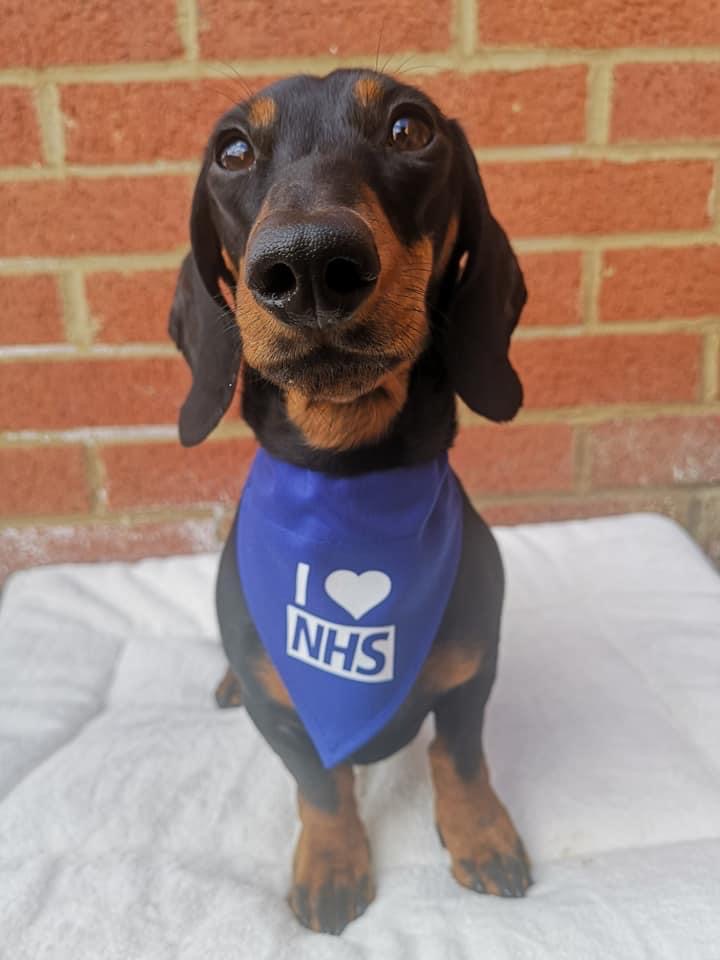 Burley Banksy:
Although we wouldn't normally condone graffiti this example by an artist known as the 'Burley Banksy' had to make our list! The Leeds based artist has transformed electrical boxes outside Leeds General Infirmary into fantastic tributes to NHS staff. 
Read more about the Burley Banksy here: https://www.leeds-live.co.uk/news/leeds-news/leeds-united-burley-banksy-creates-18009531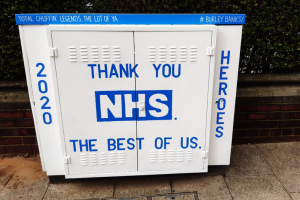 Homemade Tributes:
With Children being off School for the foreseeable future, it is a testing time for parents who are trying to balance Childcare with Work. Below is just one example of the amazing artwork that has been created by thousands of children and families across the country. Everywhere you go there is examples of these handmade heart-warming masterpiece's, it's a testament to the support being shown by everybody!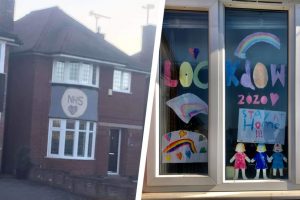 Wembley In Lights:
Perhaps one of the biggest tributes to the NHS, both in size and impact! Wembley Stadium in London, pays tribute to the NHS and its frontline staff by lighting its arch blue. This spectacle happens every night in a show of appreciation amid the Coronavirus chaos, what a powerful statement and beautiful sight to see! 
At Design Office we are producing Banners, Website Graphics, Social Media Posts and more for business who are looking to show their gratitude to the NHS and other key workers! If you want help showing your gratitude get in touch, we would absolutely love to help!! 
Email: Sales@designoffice.co.uk or Call: 01270 252106.