Promotional Christmas Gifts: The Best Christmas Gift Ideas For Clients
With just 6 weeks until Christmas, Father Christmas is just around the corner and so is 2021. After a long and difficult year for many, the season of giving couldn't be needed more. 
In this blog, we share the best promotional Christmas gifts for businesses to share with their clients and the benefits of gifting this season. From keeping up the Christmas spirit to your business being a reminder throughout 2021 to shop local, we'll give you the best Christmas gift ideas for your clients. Here are our top 5 promotional Christmas gifts for 2020:
#1 Christmas Cards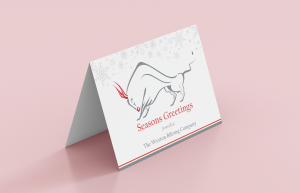 Christmas cards are often a traditional gift that many opt for every year, offering a more personal approach to promotional Christmas gifts over the festive season. With the option to add your logo or branding to your cards, straight away your customers know exactly who their card is from, generating goodwill, gratitude, and most importantly festive cheer. 
Thank your customers this year for their support during these uncertain times, and let them know how appreciated they are. The chances are that most people will open your Christmas card, as a welcomed gift this year. 
Reinforce your brand by sending out your Christmas cards to previous customers you haven't connected with in a while. You might find your card reignites your relationship again!
Let us create you the perfect Christmas card by simply clicking the button below.
#2 Bespoke Calendars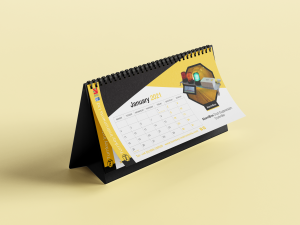 Bespoke calendars are another great promotional Christmas gift to give to your customers this year. A useful and practical present that can also be branded for your customers to remember your business all year round, ready for 2021. 
Calendars are one of the best, most cost-effective gifts to send to your customers, allowing them to stay organised and keep track of any business events throughout the next year. A simple and easy strategy to get your brand out there and another way say thank you to your customers this year. If your business sells multiple products or services why not suggest showcasing them across each month of the year and tying them in with special offers? 
To find out more about the bespoke calendars we have available, click the button below. 
#3 Printed Desk Pads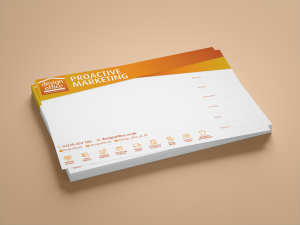 According to a 2019 study, on average proportional desk materials are kept for 13 months, with 64% of users owning one. That's something you cannot miss out on this year, help your customers prepare for 2021 and gift them some printed desk pads. 
Desk pads are fantastic gifts for people to doodle, write notes, and create innovative plans. When your logo or business branding is added, their notes will always become associated with your brand.
Having you're branding in front of your customers all year round will ensure that next time they need a product or service that you offer, you will automatically be there first port of call. It really is a perfect way to promote your business for very little cost, with as much personalisation as needed.
Get in touch with our team today to find out more about how you can order our printed desk pads, by clicking the button below. 
#4 Gift Vouchers
With a good chunk of businesses being closed for the majority of this year, a great way to boost your business is with gift vouchers. Having gift vouchers incentivises new and current customers to shop with your business again and will hopefully give you the advantage on your competitors. 
As gift vouchers expire too, it prompts your customer to head to your shop or website and purchase your services or products before the voucher runs out, boosting your bank balance in potentially much quieter times of the year.
Having a physical voucher to give to your customers is also a great way to build schemes up such as a Refer-A-Friend, offering customers an even bigger opportunity to bag themselves further discount by sharing your services with friends and family. 
Get your own gift vouchers branded and designed by our team, and enquire today by clicking the button below.
#5 Christmas E-Shots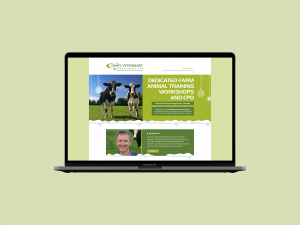 One of the easiest ways to connect with your customers this Christmas is to send out an e-shot. Christmas is the perfect time of year to show your creative side and by showing this creative side through an email allows customers to exactly what you have planned for the following year. 
Put yourself in your customer's shoes, what can they expect from your business in 2021? Will you be advertising your business more actively on social media? Have you worked or partnered with anyone new recently? Are you revamping your website? These questions are great to ask yourself and create a talking point for your customers to engage with you.
As well as being able to thank your customers, and give them your best wishes for the festive period, it is a great opportunity to share more about your business. You may decide to theme your e-shot and have '12 Days Of Deals' as an example. Whatever you decide to do this year, an e-shot definitely needs to be one of them.
Where To Find Promotional Christmas Gifts
There are so many benefits to creating, designing and sending out promotional Christmas gifts this year, and as much as we are telling you what you need to purchase, we haven't really provided you with much guidance on where you can actually find all these branded Christmas gifts. 
Luckily for you, Design Office can design and supply all of the above. From creating fantastic Christmas themed messages for your audience to providing printed desk pads, we've got you covered. Take advantage of all of the benefits above and actively engage and connect with your customers this year, with the hope to boost your sales and customer loyalty next year.
For further information and prices on any of the items above, simply get in touch with our team today. Call us on 01270 252106 or fill in our online contact form here and our team will get back to you as soon as possible.