Cerco IT Ltd Make an Impact with Design Office Hop-Up Stand
With the technological advances we have seen over the last few years many people think that trade shows and exhibitions are a thing of the past. Today, companies are looking more and more towards digital marketing and digital advertising. In the current economic climate, Events, Sales and Marketing budgets are all being cut in many companies. There is more concentration on pouring funds into finding revenue in other ways and boosting sales teams. However, the importance of exhibiting should not be underestimated. Exhibition and trade shows are far from extinct and it is still one of the best ways to get yourself noticed within your industry.
Here at Design Office, one of the many sectors we work in is Display, which covers a wide range of products including Exhibition Stands. Our vast selection of products range from small 3m x 2m Hop-Up stands to larger, bespoke gantry frames accompanied by large format graphics. Our blog post that featured the Exhibition Stand we produced for Turnkey Instrumental is a great example of a bespoke, 10m x 4m Gantry Stand with full colour, large format graphics. This project also came with accompanying lockable pods with table tops and full colour graphics and 2 large screens complete with bespoke, app-style interactive graphics – a truly unique stand for a fantastic exhibition!
This blog post will focus on the smaller, compact and easy-to-use display products that we offer here at Design Office.
Most recently, one of our well established customers, Cerco IT Ltd, approached Design Office looking for some Roller Banners to be designed and printed for use at an upcoming careers event.
Cerco IT Ltd launched as Cerco Training in 1989 from Granada IT Services, and started initially to provide practical courses for candidates looking to start a career in IT. In 2003, a recruitment/contract arm was added, enabling them to place trainees directly into fully paid work.
Cerco IT Ltd has a great reputation with more than 25 years' experience as a technical services business and provider of highly motivated, skilled and versatile IT professionals to industry leaders including BT, Fujitsu, Ricoh, NCR, Virgin Media and many others. What's more, a significant number of successful candidates have a background in the Armed Forces.
Cerco IT Ltd are attending the careers event in the hope to attract candidates for both full time employment and training opportunities. The original brief asked our design team to create two Roller Banners, one focusing on all candidates looking for job opportunities and one focusing on Ex-Service Personnel looking for a new career.
The design team here at Design Office tried to get into the mindset of the potential candidates and sourced playful or creative images that could be accompanied with a compelling headline to create a high impact, highly engaging visual for the candidates to be drawn to.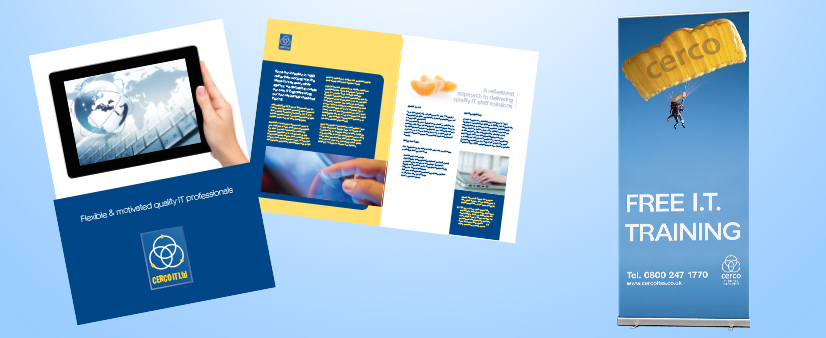 To begin with, the team came up with a variety of headlines all relevant to the key selling messages that Cerco IT Ltd wanted to get across, before sourcing images that represented these headlines. Once complete, the team then went through the archives to look at previous work completed to refresh their memory on the brand in terms of identity and style. Using these established visual features the team then developed a template design for the Roller Banner that various headlines, images and key points could then be placed into.
The first set of designs covered a range of angles from which to come at the headline and main image, really giving our client food for thought during the presentation.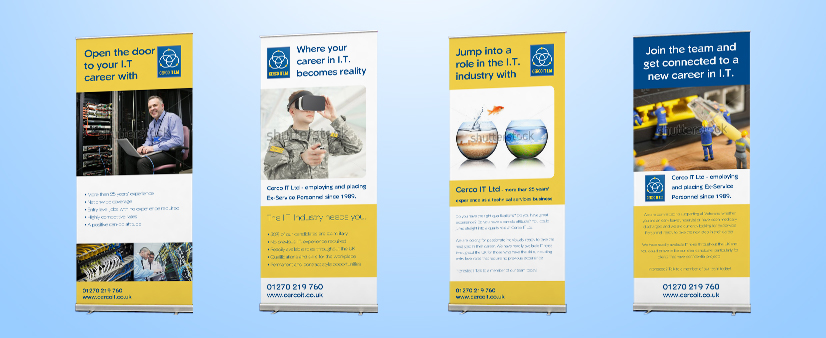 After establishing that there were two designs that they were drawn to more than others, Cerco IT Ltd enquired about exhibition stands as opposed to Roller Banners, on which the content of the two could be combined to create one compelling stand.
Cerco IT Ltd loved the idea of using an image of an ex-military man using a pair of virtual reality glasses with the headline 'Where your career in IT becomes a reality', but they decided that they wanted to also make more of a feature of the training that they can offer, as well as the career that they will ultimately embark upon. Therefore, Cerco IT Ltd opted for a 3m x 2m Hop-Up Stand with a large wrap-around graphic that would allow the team here at Design Office to brand the stand whilst also using a series of images to visually tell the story of the process that candidates will go through with Cerco IT Ltd. As they wanted to use the stand to focus on the process, an accompanying table cloth was also designed to drape over the table that our clients will be sat behind, with key points on why a candidate should choose Cerco IT Ltd.
When completing the design careful consideration was taken. While the whole space was filled to allow the stand to be used alone, the most important information was used in the top half of the design, whilst anything on the bottom half was repeated in the design of the tablecloth for those occasions where our clients used this Hop-Up stand behind a table.
Although the primary colour of the Cerco IT Ltd logo is blue, their brand includes yellow, which was used as the main colour for this stand to ensure that they would stand out from the crowd from a distance, as well as creating high impact for those candidates already at the Cerco IT Ltd stand.
Here at Design Office we offer creative services for those who wish for their stand to be designed and we also accept print ready artwork to send straight to large format for those who wanted to have a go at the design themselves. For guidance on creating your artwork or a general discussion about your upcoming Exhibition event or any other display products you may be looking for, why not arrange your FREE no obligation consultation with a member of our team now!? Call 01270 252106 or send an email to marketing@designoffice.co.uk
We wish Cerco IT Ltd the best of luck at their event on 16th March and we hope that the stand is a success for them!