A Creative Refresh for the New Term at Grove School and College!
As it is September and therefore the start of the new academic year, one of the most recent projects to leave through the Design Office doors was a fresh range of interior graphics to adorn the walls of Grove School and College.
Just over a year ago Grove School and College partnered up with the talented creative team at Design Office to develop a new identity for both entities of the school, as well as a unique project that allowed students of the school to team up with the designers at Design Office to create a brand for their canteen – Caffe Boschetto (Read more here).
The new identity for Grove was designed during the summer of last year (Read here to see the designs we came up with and the uncanny resemblance Google's logo had shortly after!) and at the time was rolled out onto a range of items including new stationery, prospectuses, reception graphics and signs.
This year, the staff at Grove wanted to develop this further by approaching Design Office once again to create a range of items that included foamex boards with printed graphics, vinyl graphics applied direct to the wall, and even a roller blind!
One of the main corridors within the school looked very bare, so Design Office were called in to offer their expert advice and develop some designs that could be used to brighten up the space. It was requested that the school strapline was sized and printed onto durable wall vinyl, with lamination, and cut out as individual lettering to apply to the wall. Above this, to cover the small windows, Grove wanted a selection of photographs to be used to create a vibrant graphic that would capture the essence of the school. Using the space the team at Design Office created a montage of images upon a coloured background, using photographs from a range of subjects offered in the curriculum at Grove School, advertising its diversity. Once again, the graphics were printed and laminated, although this time they were split into pieces and applied to bespoke pieces of foamex to fit within the frame of each window. To ensure that the design was consistent at all angles, small segments of coloured vinyl were even applied to the edges of each window frame to ensure that no wood could be seen.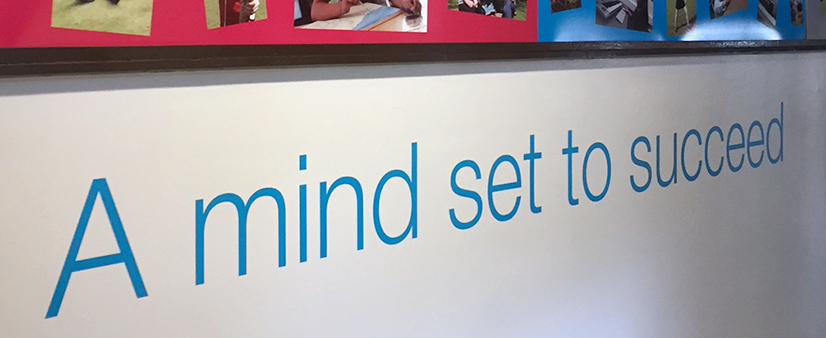 Moving into the Pupil Reception at Grove School, more foamex panels were produced, this time with two photographs selected from the photoshoot that our Photographer completed just last year, to once again represent the students of the school. Below this, an additional panel was created with the Grove School logo on to subtly introduce the brand to the Pupil Reception area.
Last, but by no means least, Grove asked Design Office to create a product for them that we have never done before, and will be looking to do more in the future – bespoke printed roller blinds!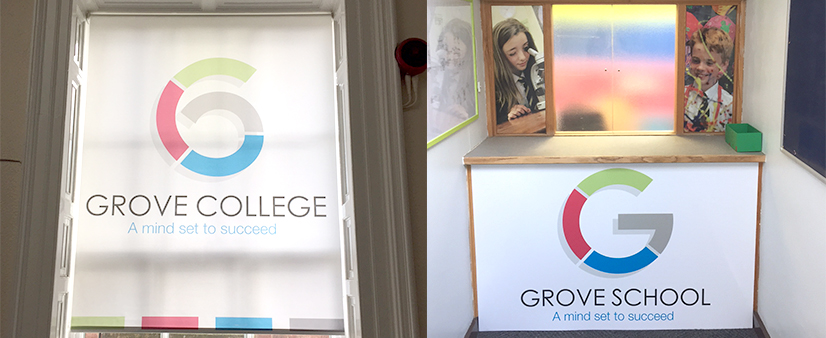 Grove wanted a branded roller blind to cover one of their windows within the building. While the design itself was kept simple, with a white background and just the Grove logo and strapline taking the focus, the project then moved to the Sign Making team within Design Office, where the graphic was printed onto roller blind material, printed to the bespoke size of the window and finally fitted into a mechanism to make the blind roll up.
Along side the new signage for the interior of Grove School the Design Office team have also been working hard on fantastic new designs for the school letterhead, compliment slips and notepads, creating a complete marketing pack.
Here at Design Office we work on a wide range of projects from print and signage to websites, vehicle graphics and even photography. If you have a project, no matter how big or small, why not get in touch with us now? For your FREE, no obligation marketing consultation to see how partnering up with Design Office can bring advantages to your business, call 01270 252106 or send an email to marketing@desingoffice.co.uk now!
PLUS! Join our A-List on our website to gain access to our monthly offers. Once you have done this, you will be able to order our stationery suite as described above – 1000 full colour letterheads and compliment slips at £179.00 – and 80 FREE branded marketing pads. An offer not to be missed!