Coronavirus Signage For Schools
Design Office have created a specific range of Coronavirus Signage for schools, colleges and universities. All are aimed at being more child friendly and engaging, making it easier and more likely that pupils will follow instructions and stay safe. It is essential that both pupils, staff and visitors are kept as safe as possible during these times which is why effective Health and Safety Signage is essential!
All products will be made to your bespoke requirements, sizes and quantities! Our team will add your branding and logo to keep the Signage, Floor Graphics and Banners consistent to that of your current. Alternatively, if you have a specific Coronavirus sign that you want creating for your School, College or University, Design Office would be more than happy to help!
Simply Contact: Sales@designoffice.co.uk – 01270 252106 or 07786092234
Below are just some of the COVID19 Signs for schools that we have created! Fast delivery and installation are available on all items! Installation, if required will be undertaken by our highly skilled signage team who have been trained on COVID19 health and safety best practices. Design Office have been working within the Education sector for over 27 years, so rest assured we have the skills and knowledge to deliver industry leading quality and service!
How To Order?
Simply email: sales@designoffice.co.uk or call 01270 252106. Discounts are available!
Coronavirus Floor Graphics For Schools:
Below is a selection of social distancing floor graphics that we have created for Schools, Colleges and Universities. All graphics can be fully customised to incorporate your schools unique messaging and colours. All Coronavirus Floor Stickers for schools are printed onto high tack vinyl and over laminated with a hard lasting protective layer. This makes them perfect for standing up to high amounts of foot traffic, the stickers can be applied to most surfaces including carpet and hard floor.
Delivery is available across the UK and fast turnaround is guaranteed! Alternatively, if you would like our qualified team to install your schools Coronavirus Floor Graphics for you, we would be more than happy to assist!
Standard Size & Price: 
30cm customised, high quality Coronavirus Floor Sticker for schools; £7.50 each.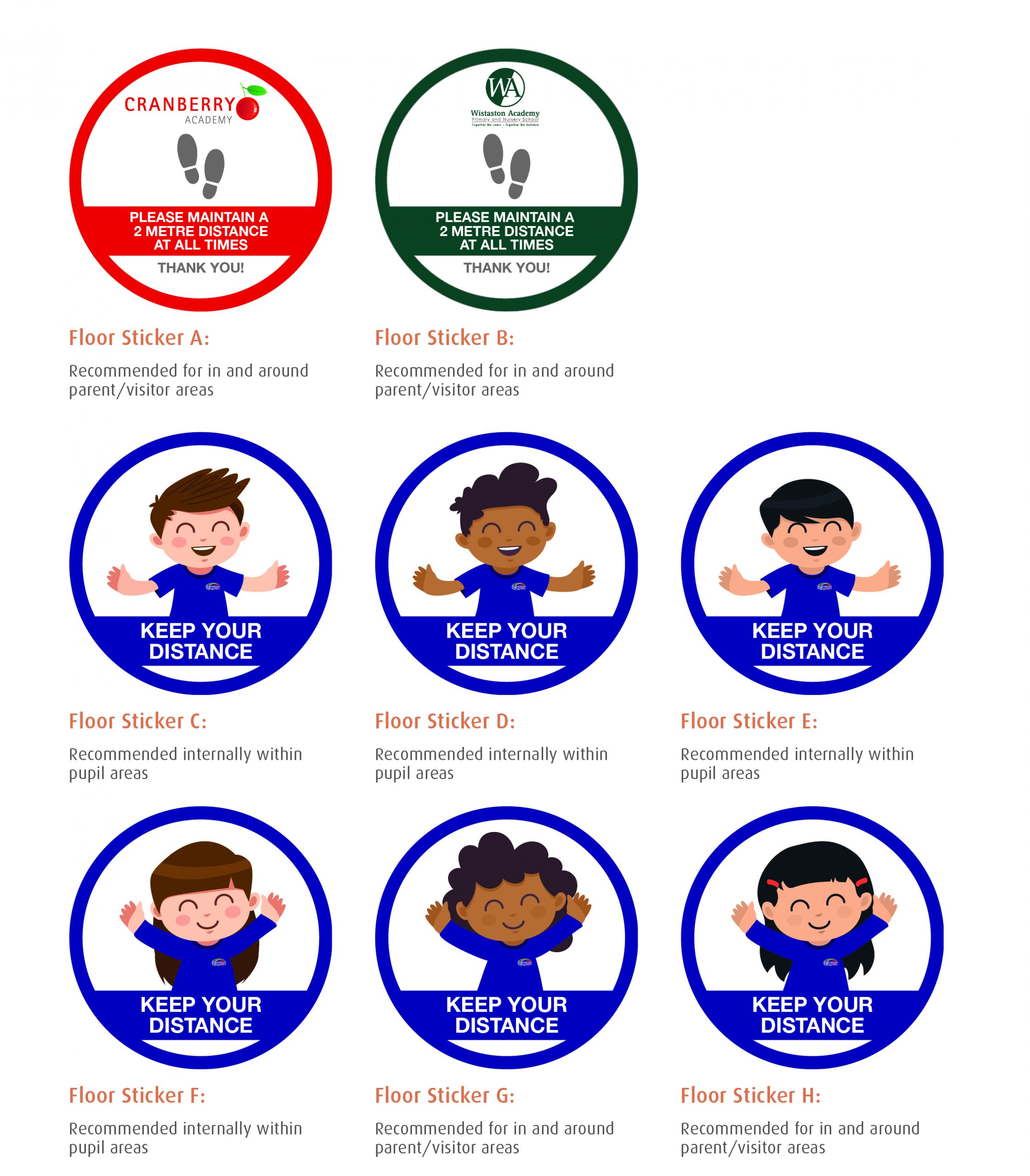 Coronavirus Signage For Schools:
Below is a selection of specially designed Coronavirus Signage for schools, all signs can be fully customised to incorporate your unique branding and any specific messaging that you wish to include. All school signs are printed onto high quality vinyl, over laminated with a clear film to add longevity and allow cleaning. Graphics are then mounted onto 3mm thick rigid board and supplied with tape to allow easy self installation.
All School Coronavirus Signs can be produced to any size and quantity to meet your specific requirements, please see our standard size and pricing!
Standard Size and Price:
A4 – £7.50 each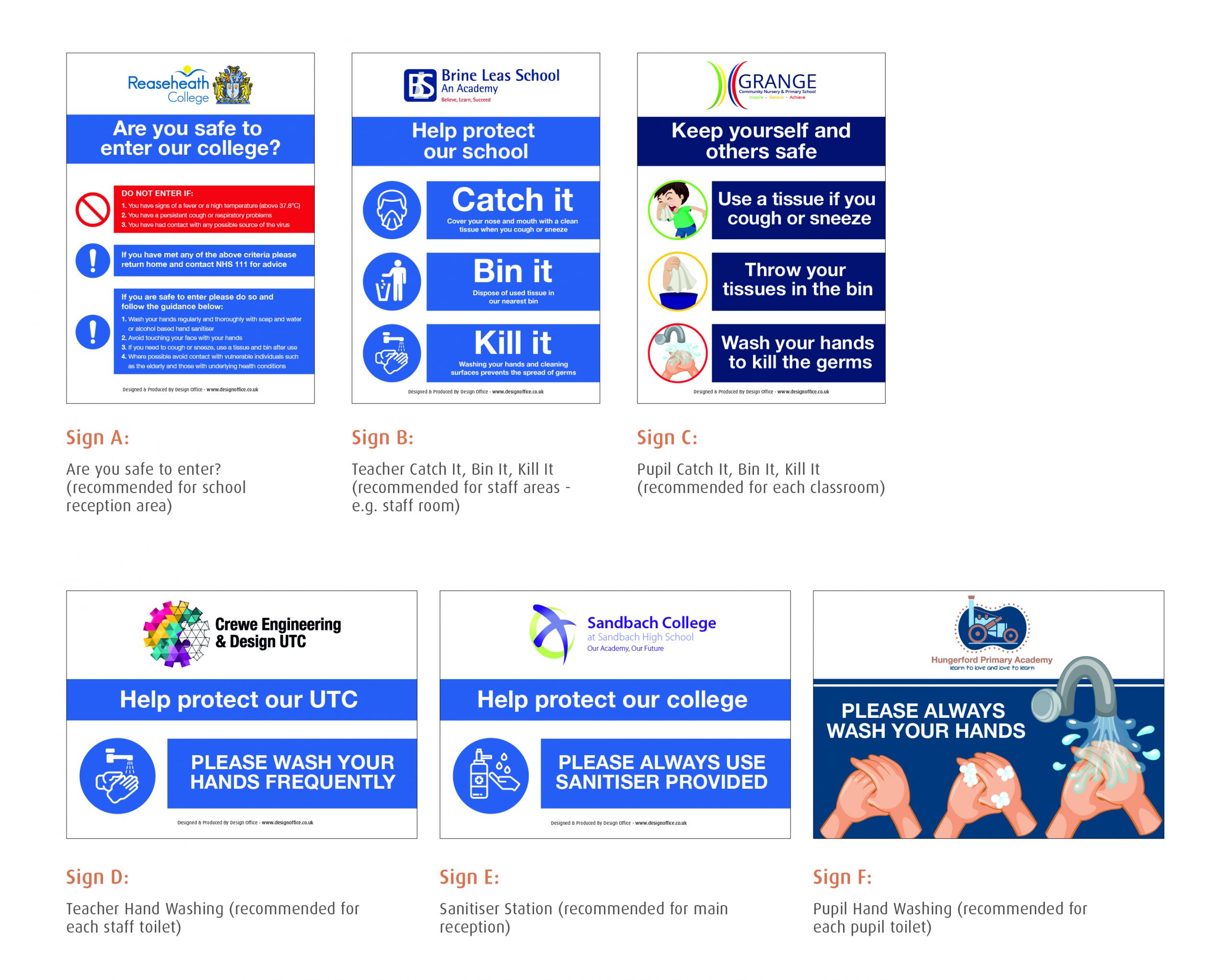 School Coronavirus PVC Banners:
Perfect for promoting Social Distancing to both parents and pupils upon their entrance to school property. Our PVC Banners come eyeleted making installation to fences or walls easy.
Sizes & Prices:
2x1m – £40 each
3x1m – £60 each
 Roller Banners:
Roller Banners are ideal for internal use, printed onto high quality banner material, inserted into a roller base and supplied with a carry bag. Perfect for Primary School Coronavirus Signage, high school, college or university.
Size: 2000mm x 850mm
Price: £69 each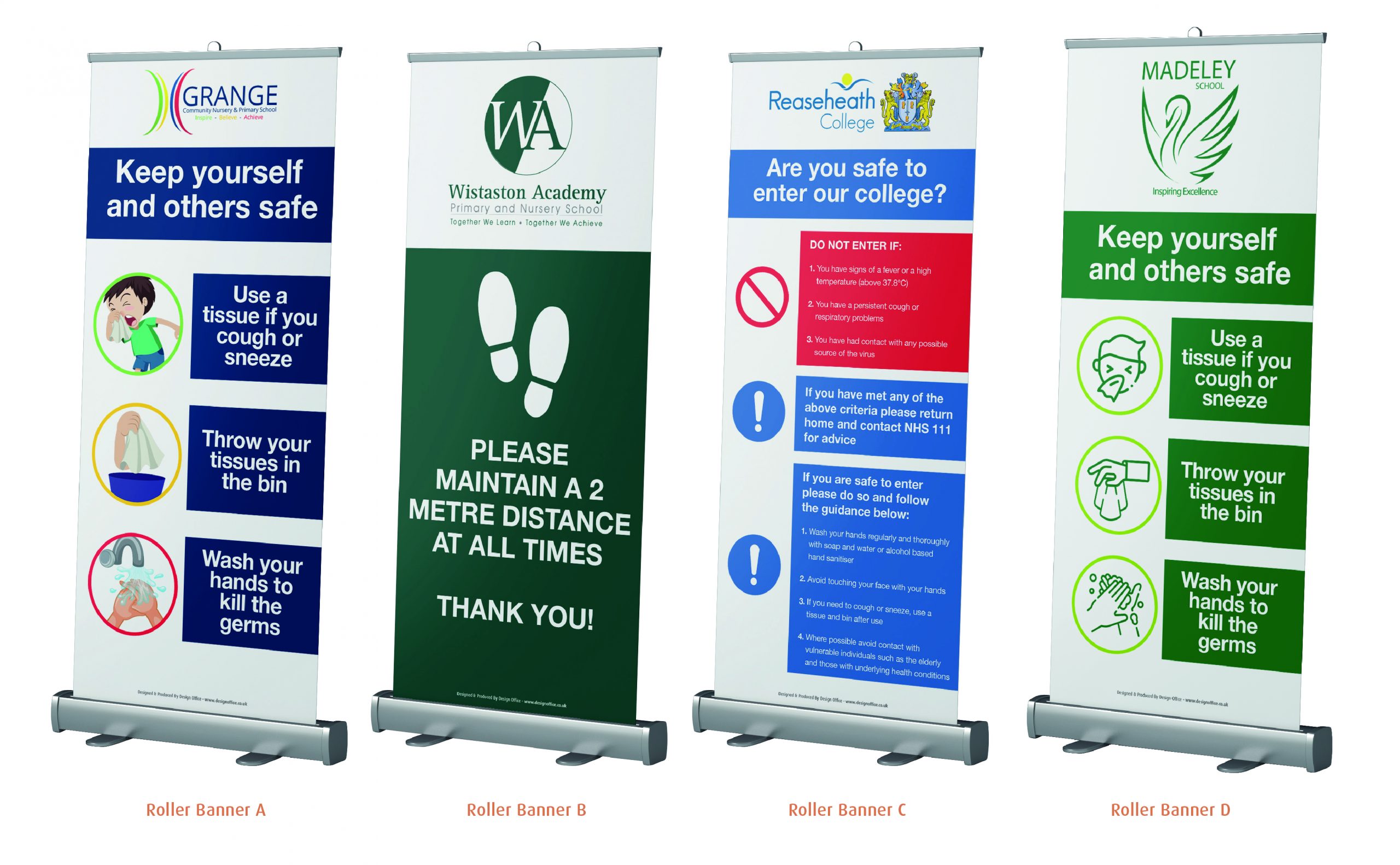 Wall Mounted Sanitiser Dispensers:
Fully custom branded wall mounted Sanitiser Dispenser with branded backboard, perfect for use within schools to help promote sanitising for Pupils, Parents, Staff and Visitors. We will fully brand your Sanitiser to perfectly match your schools, colleges or universities branding.
Price: £65 per unit
If you are interested in any of our other specialist education services, click HERE to read our Education Brochure!
WE ALSO SUPPLY;
BESPOKE PRINTED FACE MASKS
FREE STANDING SANITISER DISPENSERS
SANITISER
Stay up to date with the latest Coronavirus News click HERE