What, Why and How to Get Your SSL Certificate Now!
By now you may or may not have heard that as part of the latest algorithm Google are tightening up their security requirements. They have recently announced that they are making changes to how websites without an SSL Certificate will be ranked, encouraging Web Developers to add that extra layer of security to any websites they work on going forward.
It has been confirmed by numerous sources that there is a positive correlation between websites found on first page Google rankings and HTTPS website, showing that now roughly 45% of websites shown at the top of the rankings use HTTPS encryption, up from just 12% in 2015.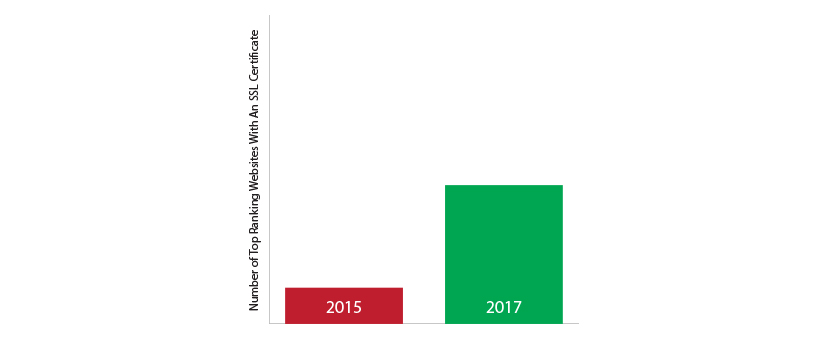 So what is an SSL Certificate, what does this change mean and how can you ensure that your website doesn't suffer?
What is SSL?
Secure Socket Layer (SSL) is a layer of protection that can be added to any website. It effectively created a padlock for the site (and is also shown to the left of the website URL), which enables secure connections. These are commonly used to ensure that data is sent to a website securely, for example when entering your card details for an online purchase. You will notice that most, if not all, bank and eCommerce websites already have this security in place. In fact, here at Design Office we have recently added SSL Certificates to both this site and our new website for the foiling aspect of our business, www.foilingoffice.co.uk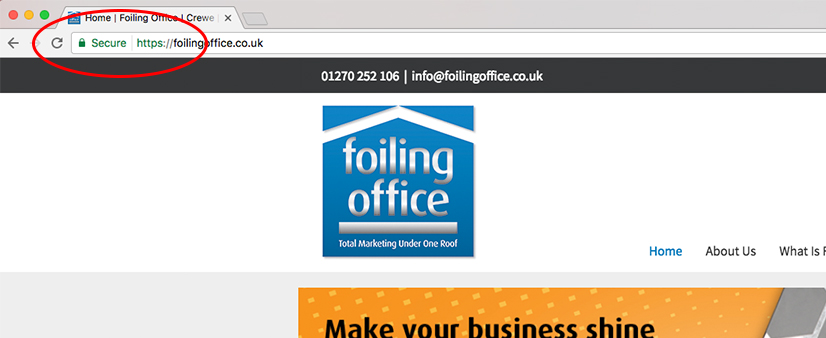 Why should you get an SSL Certificate?
SSL Certificates add security to your website in a number of ways:
Firstly, the HTTPS protocol (which an SSL enables) verifies that the website you're on is the one you've requested. This is indicated by the https:// at the start of the web address you are viewing.
Secondly, it prevents what are known as man-in-the-middle attacks. These attacks involve a "middle man" eavesdropping on communication on the website, and have resulted in many security breaches and fraudulent activity. An SSL prevents against these attached as HTTPS does not allow third parties to tamper with your site.
Thirdly, HTTPS encrypts all communication, including URLs, which protects things like browsing history and any stored credit card information.
What to look for
As mentioned above, when websites invest in an SSL Certificate they are rewarded with a green padlock at the start of their URL, as well as the added protection of https:// as opposed to http://. There are in fact two types of SSL Certificate – Standard and Extended. The Standard Certificate is displayed as above, however the Extended Certificate is also displayed with a green bar, also before the URL. The advantage of an Extended SSL Certificate is that there is more trust with the user as it has an organisational stamp of approval. Despite this, both certificates do have equal SEO gains. Here at Design Office we have the Standard Certificate on our website, which is displayed using just the padlock. Having said that, we do offer both the Standard and the Extended Certificates.
What is the Impact on SEO and Google Analytics?
So, we already know that these certificates are good for your website. They help you generate trust with your users and are particularly desired on websites that require sensitive information. However, due to the latest algorithm, perhaps the most important benefit to having an SSL Certificate is that Google are going to start penalising websites that do not use them. Whilst the direct benefit to your SEO may be hard to determine, the affect on your rankings due to not having one won't be!
Another benefit of having an SSL Certificate is that, unlike with standard website, our web team here at Design Office will be able to track users that have come from secure HTTPS websites to your site through our Analytics tool. Without an SSL Certificate, we are unable to track the source of users who have come from a secure HTTPS website to your site, as referral data will be lost and will simply show as 'Direct Traffic'.
How can you get your certificate?
Here at Design Office we have been researching into this new requirement and as mentioned have already purchased these certificates and added them to our websites. As we are passionate about Web Design and Development we always have one eye on all of our clients' websites to ensure that they are updated, secure and compliant. Now, we are urging our customers to purchase an SSL Certificate to protect their rankings. For just £80 per year the team here at Design Office will purchase the required certificate for your domain, and upload it to your website, adding that extra layer of security.
If you would like more information about SSL Certificates, would like to talk to a member of our team about your website, existing or new or would like to purchase an SSL Certificate, why not arrange your FREE no-obligation consultation today. Call 01270 252106 or send an email to marketing@designoffice.co.uk.