Gold Star Student Creates Fantastic Marketing for Foiling Office
During the second week of January the team at Design Office welcomed a brand new member – Trine, a student studying at Dania Academy in Denmark, for a 3 month marketing placement. At the time we wrote a blog post about Trine, introducing her to our customers and explaining what she will be working on during her time here. As time flies by so quickly those 3 months are almost over, so this week we have decided to look back over Trine's time here to tell you more about what she has been doing for us whilst here and what has been achieved, both personally for Trine and for Design Office.
When Trine started her placement Design Office had recently invested in a brand new Matrix Pneumatic Foiling Machine and on the back of this developed our sub-brand Foiling Office. While we had set up a website for this new aspect of our business, there had been no marketing strategies developed for Foiling Office and therefore no collateral directed at our audience to raise awareness of the new service or boost traffic on the new website. As Trine came over from Denmark to focus on Marketing, taking Foiling Office under her wing and developing the new business venture for us became her focus.
Over the last 12 weeks Trine has covered every step required when developing a marketing strategy, from thorough research to actually releasing some of the marketing collateral – despite not being a designer she has even produced all of the graphics herself!
Research
For the first third of her placement Trine focused on researching. Whilst the obvious elements of research include local and national competitors foiled products and prices, Trine's thorough approach created a body of research that also include what particular designs are popular and selling well, how the websites themselves (that the foiled products are sold on) are designed and what the user experience is like. She also looked into what competitors' meta descriptions are and what their customers are saying about them as a business/service and how they are rating them. Finally Trine looked into what samples and pricelists are readily available on websites or available to order and even which social media channels competitors are using, what sort of content they are posting and how frequently they are posting it.
From there, Trine looked more closely at competitors' prices and worked closely with our team to gain accurate production costs from our internal CMS system, developing a spreadsheet with costs for materials, time, set up/depreciation cost, sales prices and margins.
SEO, Analytics & Paid Advertising
During the second third of her placement, Trine worked more closely with our Web Developer, focusing on the Foiling Office website and learning more about the current traffic that the website is getting and how this can be improved. To do this, Trine spent time analysing data through Google Analytics and also looked at SEO, Meta Descriptions, Meta Keywords and AdWords in much more detail.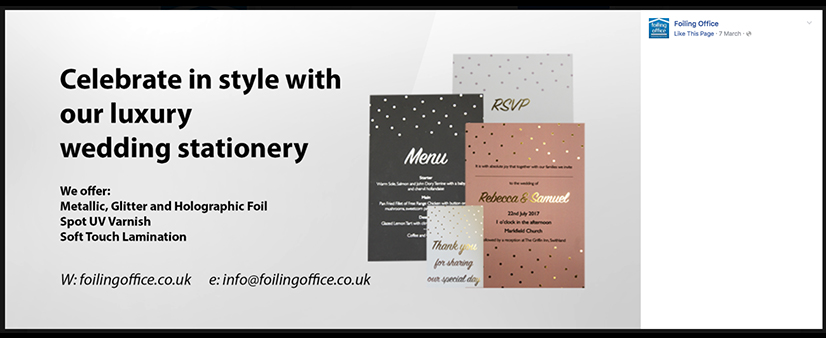 Graphic Design
Finally, once Trine was confident with the knowledge that she had gained and the marketing strategy that she had started to develop for Foiling Office, she moved on from the research and starting putting the plan into action.
This involved moving onto our studio Mac, where she spent time teaching herself how to use various tools in Adobe Illustrator, InDesign and Photoshop to produce the graphics that she wanted to use for both the website and her marketing strategy. With only a small amount of help from the team to point her in the right direction or check her creative wording for her adverts, Trine was able to design professional graphics in the correct format and to a standard matching with the rest of Design Office's work, to post onto the Foiling Office website and social media channels.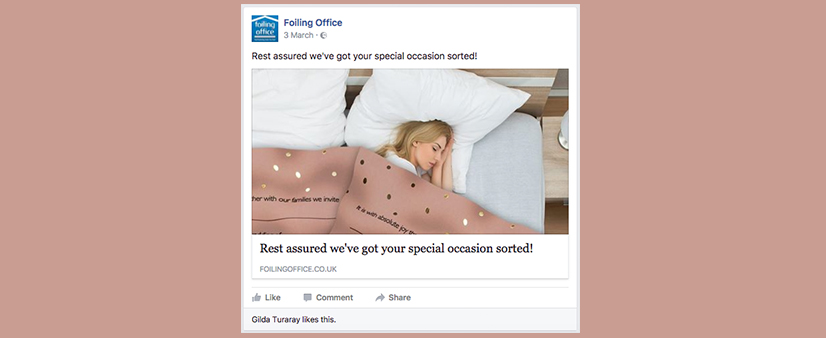 Most recently, Trine decided to send a questionnaire to Design Office's customer base for further research and achieved this by developing her own questions and learning how to use MailChimp to successfully send an e-shot.
To finish off Trine's placement, one of our Graphic Designers, Stephanie, asked Trine just a few questions about her experience. Find out what she said below!
Has your placement been what you expected it to be?
Yes it has, it has been a really great experience for me, I have learned so much whilst being here, everyone has been really nice and helpful. I am really proud of the things I have made!
What has been the most enjoyable part of your project?
That I got to try as many different tasks as I did, I did work in WordPress, I did some Graphic Design and I got to create an e-shot and use social media. I also took photographs and manipulated them in Photoshop. I'm glad I had the change to try so many things in such a short period of time.
What has been the most challenging part of your project?
In the beginning it was really overwhelming because I have never had a full time job, so I could just not see the end of the tasks just piling up, but I was able to finish all of tasks on time and feel more confident with deadlines now.
How will you use what you have learned at Design Office back in Denmark?
First I will use a lot of what I have learned for my undergraduate dissertation in Denmark, because I am writing about Design Office and how to introduce Foiling to B2C. I also know a little bit more about what I want to work with in the future. I would like to work in a bigger company and not in a Marketing Agency. Maybe at some point I would like to start my own business so the things I have learned here would come in very handy, but I want more work experience first.
What will you do when you go back to Denmark?
I will write my final dissertation, and then I will do what is called a top-up to get a Bachelors Degree in International Marketing and Sales. Then I will do another placement in Denmark and hopefully get a full time job with that company.
Would you do a placement abroad again?
Yes definitely, this has been the best experience! I have gained a lot more confidence and I have travelled a lot which has been really great. However, my boyfriend and I have decided that from now on if we want to go somewhere we will go together. It would be fun to live in a different culture that is even more different from the Danish and experience that.