Work Experience Student Creates Fantastic Cards for Design Office!
This week at Design Office we have been host to our first work experience student of the new academic year. Emma Spencer, a highly creative Year 11 student at St Thomas More High School, is about to prepare for her GCSEs, before moving on to study A Levels in Art, Graphic Design and Drama. To help her prepare for her creative challenges ahead, she has been working in the Design Office studio this week on a range of creative projects, designed to help her develop technical skills in the Adobe Creative Suite, particularly Photoshop, Illustrator and InDesign.
To kick off the week Emma was introduced to the team and given a prime desk in the creative area of our 10,000 square foot premises, where she was given a couple of hours to familiarise herself with the environment, get to know the other staff and get to know the sort of projects we work on here at Design Office.
After settling in, Emma was given her first live brief – design a Christmas Card for Design Office. Emma was shown examples of what the design team have been working on so far which gave her a foundation to work on. The, with guidance from the designers on how to complete various processes and using a range of design tools in Photoshop and Illustrator, Emma began putting together her own ideas. From there she took the final artwork into InDesign and created three different designs for an A5 Christmas Card.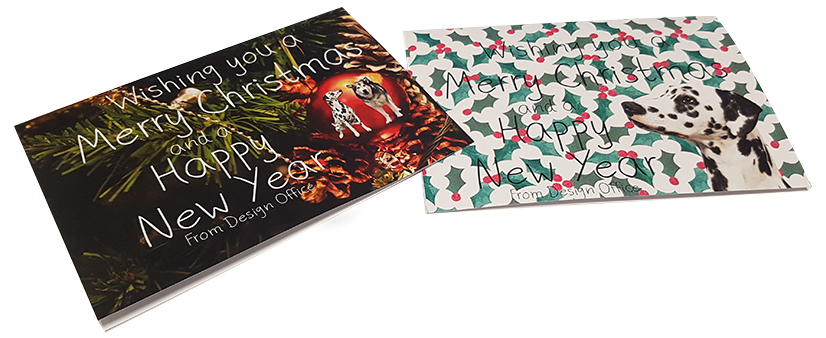 As the week progressed and Emma's confidence grew in the design software that we use here at Design Office, she was set a new brief – to create a new mailing card design for one of our sister company's (Franchise Connect) biggest clients, Maid2Clean.
Maid2Clean deliver millions of mailing cards every year, all over the country. On their portal, provided by Franchise Connect, there are a range of different mailing cards for Franchisees to choose from and here at Design Office we thought Emma's work experience would be a great opportunity to see if she could come up with something creative that could potentially help Maid2Clean sell their services.
Similarly to the Christmas Cards, in the time she was given, Emma was able to develop a range of ideas for Maid2Clean, taking inspiration from the existing mailing cards that we print and putting her own twist on them to create something fresh.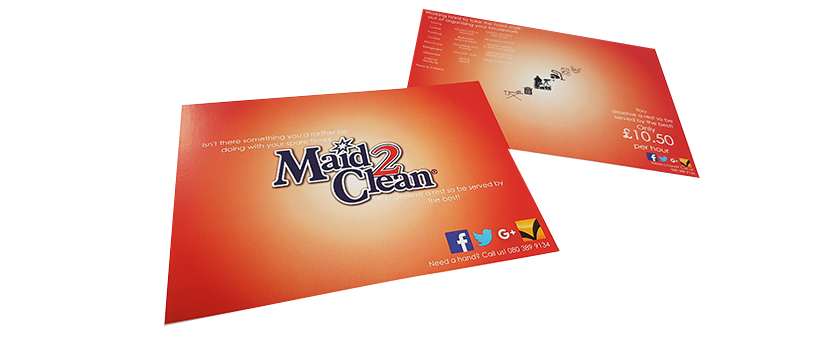 In the background, our Managing Director, Kev Edge, has been in and out of the office attending appointments, but where possible he has personally spoken to Emma about the designs she has been creating and what kind of designer she would like to be in the future. As part of this, Kev has been challenging Emma to think about how she might brand herself, perhaps thinking about a logo that she might want to use on her CV and Portfolio to show future employers a small insight to her character.
Kev explained that many creative students choose to brand themselves and create self promotion items to help them get interviews, placements and, ultimately, a career in design, so in addition to the live briefs that Emma has completed for Design Office, she has also been working on her own identity.
By the end of today Emma will have completed her week of work experience and will be going back to St Thomas More to complete her final year of high school. To take with her, one of our designers has spent some time showing Emma a small insight into the print side of the business, giving a demonstration on how to imposition print ready artwork ready to be printed, as well as allowing Emma to set up her own artwork for print. The artwork was then printed onto the paper stocks that would genuinely be used for these projects, before cutting and folding them, producing some real samples for her to take back to school with her.
Here at Design Office we are more than happy to support budding designers where we can and we are always happy to accommodate work experience students and young designers looking for placements. If you are looking for some experience why not get in touch? Call 01270 252106 or send an email to marketing@designoffice.co.uk now!