Website Design Agency In Cheshire
UK Based Web Developers
Your website is the gateway to the world wide web, whether you run an e-commerce store or a large corporate business, visitors to your website will form an opinion of your business based on what they find. In this ever-changing environment, it is vital that your website performs to your requirements as well as meeting the needs of each individual visitor. Our ethos is to build websites that have been planned, designed and built to a meticulous level, this is the reason why any Design Office website excels in this fast-changing environment.
We are based in Crewe, Cheshire but provide our website development services for businesses across the UK.
Our Website Products & Services
Optimised Responsive Websites
Our website building process starts with you at the very beginning, with a pencil and paper! We will discuss your goals and objectives and any initial ideas. Our team will then start to get these down on paper in a rough sketch format.
Following on from this we will take these sketches and create your initial design using the latest software. Once you are happy with our initial design we will progress onto our next stage, development.
Website Development
The website development stage is where your chosen design is built into a fully working and fully functioning website. This covers everything, from any sliders or videos you have to the services pages and pictures!
The website will be then placed in our secure test area for you to have a look and explore through the site, any alterations to the site can be made at this stage to ensure you get the very best website!
Going Live
When you're happy with your website in our test area, you can come and complete some initial training at our design facility. This training will cover various aspects from changing words to uploading documents and images.
Once the training is complete we will upload your website onto your chosen domain, we can also set up any email addresses that you would like and help you set them up on your devices.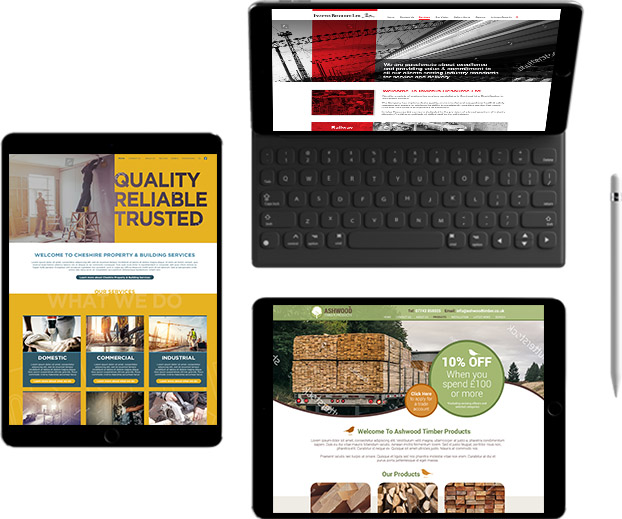 Search Engine Optimisation (SEO)
Designing and building your WordPress website is just the beginning of its journey. For those who want their website to deliver results and rank highly on the search engines, we recommend investing in a monthly Search Engine Optimisation Package.
This investment allows us to focus on aligning the website to the latest Google Algorithm launches while also making sure the site loads quickly and runs in line with web best practice.
Professional Website Design Agency In Cheshire
We're eager to help you with your new website project! Whether you're a large business or start up company, our team of web developers can build you the website you've been longing for. We're based in Crewe, Cheshire, but work across the whole of the UK to provide responsive website design and development for a variety of businesses.
For more information about our website design agency head over to our About page, or for any enquiries simply give us a call on 01270 252106 or email on info@designoffice.co.uk.